Today Matters Mental Health Ministries
Core Values:
Community
Love
Support
Kindness
Mission Statement:
To be the voice for the silent, connecting the mind, body and soul embraced through faith, respect, empathy and dignity by removing the stigma about mental health.
Affirmation:
In case no one told you today:
You're beautiful.
You're loved.
You're needed.
You're here for a reason.
You're stronger than you think.
You're going to get through this.
We're glad you're alive!
Please join us the 3rd Saturday of every month in the Life Center. Event time starts at 4:00 p.m.
To receive emails about upcoming speakers, please look in the Church app under Groups, then Worship Services, to Today Matters. If you don't have the app, START HERE
Everyone is welcome!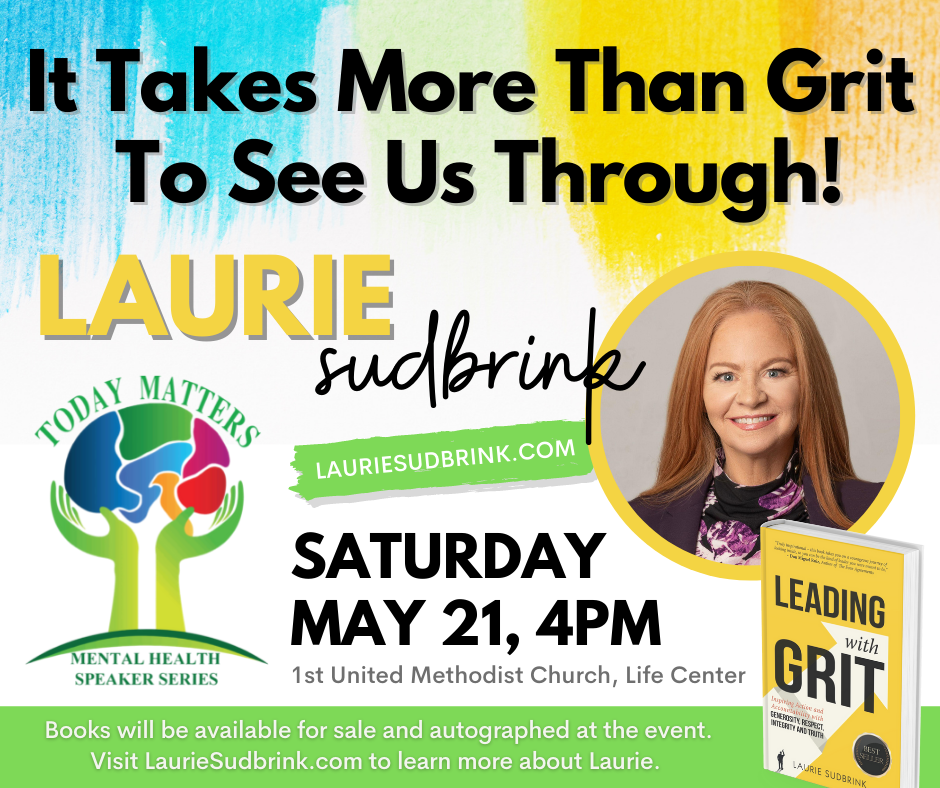 Losing 2 brothers to suicide has inspired Laurie to spread the importance of deep listening, fearless transparency and non-judgmental acceptance.
Laurie is the bestselling author of Leading with GRIT Inspiring Action and Accountability with Generosity, Respect, Integrity, and Truth, endorsed by Don Miguel Ruiz (The Four Agreements) and Ken Blanchard (The One Minute Manager).
Laurie developed the formula G.R.I.T. to bring more to the grit equation – Generosity, Respect, Integrity, Truth.
Laurie has over two decades of executive coaching, leadership training and most importantly, real-life business and personal experience. Laurie is on a mission to improve lives through leadership, and she contends that anyone can stand and be a leader.
Books will be available for sale and autographed at the event. Visit LaurieSudbrink.com to learn more about Laurie.
Radio Broadcast
Listen to the TODAY MATTERS podcast, Tuesdays at 11am featuring Briyin Butgereit. 100.9FM

Past Today Matters Guests:
General Gregg F Martin
Gregg is a mental health advocate, author, speaker, strategist and mental wellness warrior. His mission is "sharing my bipolar story to help stop the stigma and save lives."
March 19, 2022
Rosie Young
Our very own Rosie Young gives her testimony, "Life isn't always Rosie," sharing the trials that she has gone through and how God has been there for her always.
February 19, 2022
Tina Levene
Tina Levene is a speaker, radio and TV host, and author. Her personal story is nothing short of miraculous healing from abuse and addictions.
August 21, 2021
Rebekah Gregory
2013 Boston Marathon Bombing Survivor
June 19, 2021
Randy Grimes
Former NFL Player with the Tampa Bay Buccaneers
May 15, 2021